News
Sweet Tarts Finalist in New Media Film Festival
Posted in Awards, Film Festival, news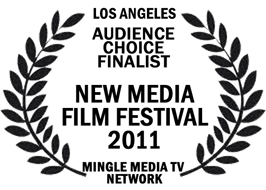 3 May 2011 – Sweet Tarts Takeaway, a comic web series produced in Ottawa, is an Audience Choice Finalist for the Los Angeles New Media Film Festival (NMFF), to be held May 20-21, 2011.
Bonnie Robinson, the creator and producer of Sweet Tarts Takeaway, submitted the series for consideration, and was thrilled when it earned enough votes to make it into the second round. "This is a very exciting time to be producing a Web Series, as the genre is still relatively new," she says. "It is great to be recognized by the New Media Film Festival, and to expose Sweet Tarts to a larger audience, and the wider entertainment industry."
Considered "Sundance for the Facebook crowd" the New Media Film Festival honours the best in New Media, from web series, to Apps to 3D Animation. Finalists for the Audience Choice Award (which is sponsored by Mingle Media TV, an online media and live web TV network company) have their web series screened at the NMFF and will have a final audience vote off during the last two weeks prior to the NMFF in May 2011 to select a winner. The winner and 5 finalists will receive an award certificate and be eligible for cash prizes.